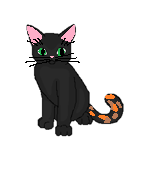 Bettlewing is a black tom with a tortiseshell tail and green eyes. He is the brother Littleclaw, Brightmeadow, and Muddypelt. His parents are unnone. He is the former deputy of FieldClan.
Parrents-unnone
Brothers-Littleclaw
Sisters-Brightmeadow, Muddypelt
Sisters-in-law-Paletail
Nefews-Cobfall, Vinefur
Neces-Ferndapple
Male Tortiseshell cats are not able to breed, this is why Bettlewing never had a mate.
He is overly agresive towards HillsideClan cats.
Ad blocker interference detected!
Wikia is a free-to-use site that makes money from advertising. We have a modified experience for viewers using ad blockers

Wikia is not accessible if you've made further modifications. Remove the custom ad blocker rule(s) and the page will load as expected.