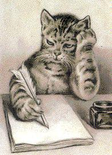 These are the Clans created by members of Warriors Fanon Wiki.
Place your Clan under the Fanfiction title the Clan will appear in.
StarClans
Edit
Our StarClan for other Clans. We like to make up our own. Please also put who these Clans apply to.
SpiritClan: SpiritClan apllies to many Clans, All the ones in Land of Fire, Against The Elements and the Role Playing Clans.
OblivionClan: Like SpiritClan, OblivionClan apllies to the same Clans as SpiritClan.
MountainStarClan: Apllies to: NightClan, StreamClan, LightingClan, AvalancheClan, and FrostClan.
BeyondClan: Applies to SolarClan, LunarClan, and EclipseClan.
PureClan: Applies to SorrowClan, RageClan, and JoyClan.
MemoryClan: Applies to TideClan, FlightClan, MindClan, and RainClan
AfterClan: Applies to MagicClan, WolfClan, and AirClan
Warriors: Land of Fire
Edit
Warriors: Against the Elements
Edit
Warriors: Mountain Clans
Edit
SmolderClan
RuinClan
ChaosClan
MistClan
AvalancheClan
MudClan________ (Add a name!)
CanineClan
Warriors: The Plains Of Danger
Edit
Warriors: Rising Emotions
Edit
Warriors: Path To Survival
Edit
TideClan
FlightClan
MindClan
RainClan
Warriors: Alliegence
Edit
DeathClan
CarrionClan
SaberClan
WarClan
Warriors: Clans of Enchantment
Edit
MagicClan
WolfClan
AirClan
Warriors: Rising Darkness
Edit
Warriors: The BarnClan Diaries
Edit
LeafClan
Warriors: Fury
Edit
These are the current clans that live in my series.(Note: Some of them combine.)
ForestClan: A clan of warriors in the forest, They are the healthiest clan as alot of their food is near them, This has caused the clan to MOSTLY get attacked.
StoneClan: This clan is near ForestClan but is surrounded by usual rocks that they call "Territory" stoneclan was controlled by the tyrannical Stonestar.
DawnClan: DawnClan was one of the more managed clans, Of course Dawnpaw was named after it..such a tragedy when it disappeared COMPLETELY, DawnClan was ruled by the benevolent Adderstar.
BreezeClan: A clan of elegance, BreezeClan was lead by a beautiful kittypet, Later the group was ambushed by stoneclan warriors, Only ForestClan came to their defense..BreezeClan was known for a constant disbelief in StarClan..exactly WHAT killed their last leader.
StripeClan: A group of ferocious warriors, Cats are in belief that they share blood with the original Lionclan. It's all but fake..despite this StripeClan are renowned swimmers who have been DARED to break the code.
FuryClan: The combined might of all the clans..FuryClan is filled with the best warriors of EACH clan, Sadly the teamup May be coming to an end..with a new territory ANYTHING can happen. FuryClan might of impressed others..but this doesn't mean the others will give in
Tribe of Tomb: An unofficial clan of sorts lead by saw, It shares blood with different mates.
Ad blocker interference detected!
Wikia is a free-to-use site that makes money from advertising. We have a modified experience for viewers using ad blockers

Wikia is not accessible if you've made further modifications. Remove the custom ad blocker rule(s) and the page will load as expected.